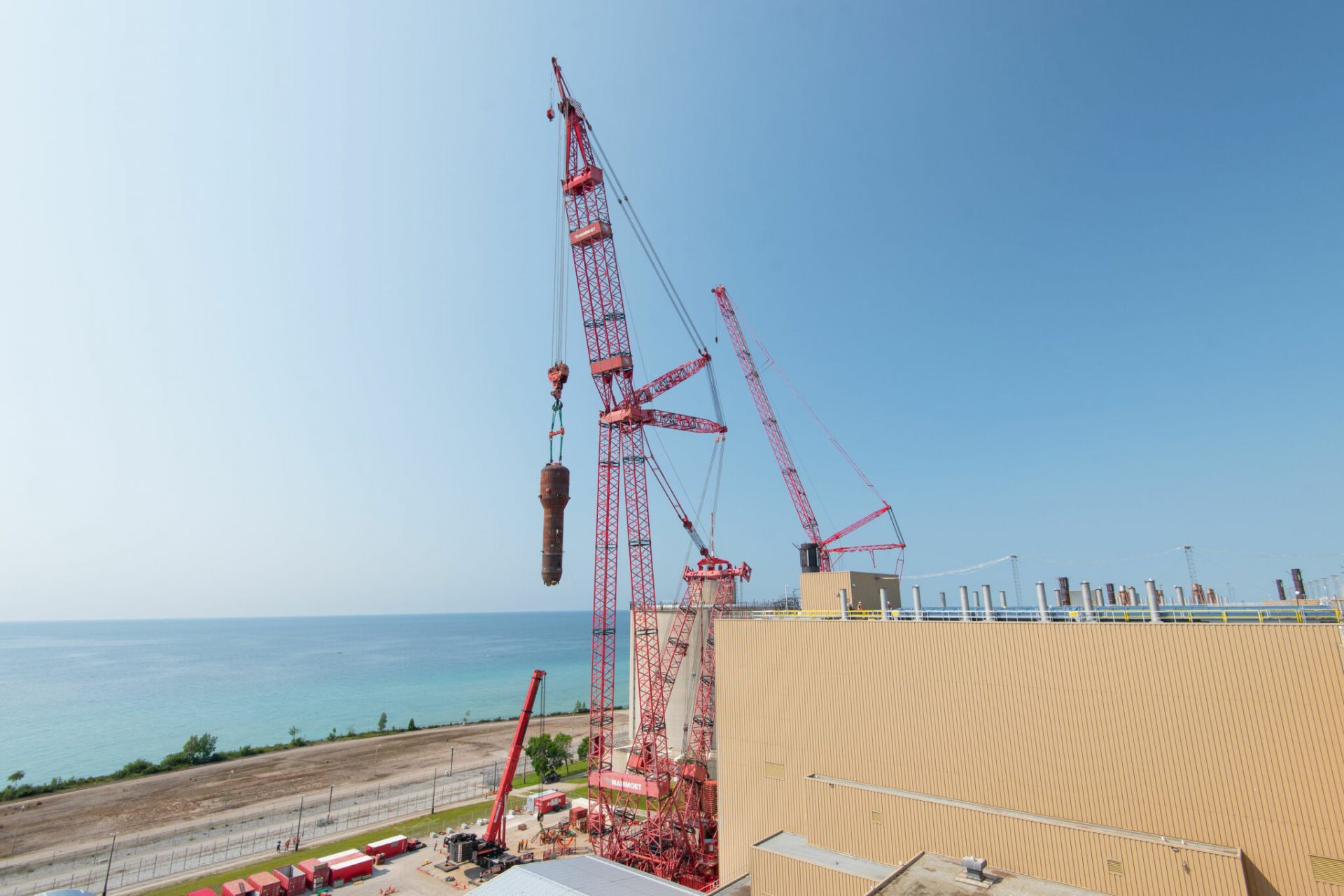 Bruce Power has removed the first of eight steam generators from Unit 6 at the Bruce nuclear plant in Ontario, the company announced earlier this week. The work was done as part of the facility's major component replacement (MCR) project.
As with the first component, the seven remaining generators, at 320,000 pounds each, are to be lifted out through a port in the reactor building's roof using Mammoet's 1,600-ton-capacity PTC-35 crane, one of the largest such machines in the world.
The unit's replacement generators were fabricated at BWXT Canada's Cambridge, Ontario, location and shipped to the Bruce site in late 2020, according to the announcement.
The vendor responsible for generator removal is the Steam Generator Replacement Team (SGRT), a 50-50 joint venture between Aecon and the Steam Generating Team, itself a partnership between Framatome and United Engineers & Constructors. Earlier this month, Framatome announced that SGRT had been awarded an approximately C$350 million (about $278 million) contract by Bruce Power to replace the steam generators at Units 3 and 4.
C-suite support: "The steam generator replacement is a major milestone for the Unit 6 MCR and represents years of hard work and collaboration between Bruce Power and our partners like SGRT, BWXT, Mammoet, Nuvia, and the building trades unions," said Mike Rencheck, Bruce Power's president and chief executive officer. "Bruce Power's 'Made in Ontario' nuclear supply chain supports Canada's largest private infrastructure and clean energy project, which injects billions into Ontario's economy and creates and sustains 22,000 high-skilled jobs annually."
Eric Chassard, the company's executive vice president for projects and engineering, noted, "The team is now focused on the safe execution of the 15 remaining lifts, which will be finished next month. We're looking forward to marking off another successful milestone for the MCR project."
Background: In December 2015, Bruce Power reached an agreement with Ontario's Independent Electricity System Operator to advance a long-term investment program aimed at refurbishing the company's nuclear fleet and securing the Bruce plant's operation until 2064.
The plant's life-extension program started in January 2016 and involves the gradual replacement of older systems in Bruce's eight reactor units during regularly scheduled maintenance outages. As part of this effort, Bruce Power began the MCR project in January of last year, with a focus on replacing key reactor components in Units 3-8, including steam generators, pressure tubes, calandria tubes, and feeder tubes.