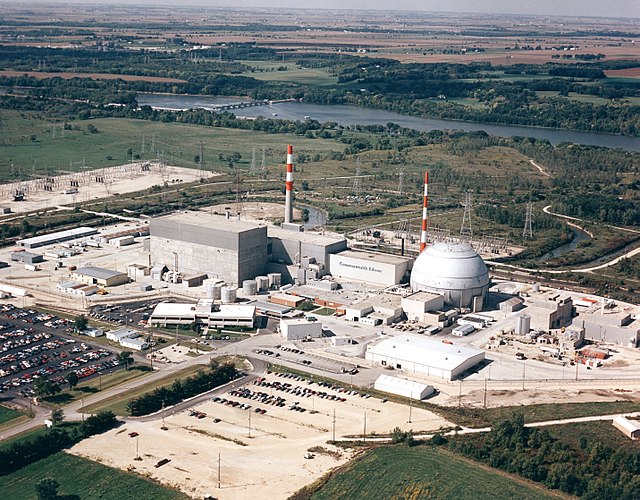 As Illinois lawmakers continue to debate energy legislation that would allow the state's Byron and Dresden nuclear plants to continue operation beyond this year, Exelon would like to remind everyone—including those legislators, no doubt—of what is at stake.
The utility announced yesterday that its four nuclear plants serving Chicago and northern Illinois—Braidwood, Byron, Dresden, and LaSalle—are approaching a combined 41 years, or 15,000 consecutive days, of continuous service.
Byron reached 5,000 consecutive days on line last week, while Dresden reached 4,260 consecutive days during the same period, according to Exelon. Adding to the streak are Braidwood at 3,975 days and LaSalle at 1,603 days.
"Byron Station hitting 5,000 consecutive days of power production is incredible," said Sarah Downs, executive director of the Byron Area Chamber of Commerce. "These nuclear plants provide everything residents have asked for: jobs, reliable and environmentally friendly power generation, and a solid tax base for local communities. Other states wish they had this much baseload, carbon-free energy to power their businesses and homes."
Reliable and clean: The plants run close to 100 percent of the time in summer and winter, when electricity use is high, while solar averages 20 percent and wind 30 percent, Exelon said, noting that "the importance of reliable, carbon-free energy has been accentuated by the prevalence of extreme weather brought on by climate change."
In addition, the Illinois nuclear fleet (which includes the Clinton and Quad Cities plants) provides 90 percent of the state's clean energy and serves as an essential complement to the state's other clean energy resources, according to Exelon.
"The workers at our plants are the best in the industry and operate our nuclear units at world-class levels of safety and reliability, ensuring we remain on line when our communities need our electricity the most," said Dave Rhoades, Exelon Generation's chief nuclear officer. "Powering Illinois with clean energy 24 hours a day, seven days a week is a hallmark of our zero-carbon nuclear fleet."
Quick bill update: After speaking on the stalled energy bill at a meeting of the Illinois Valley Building and Construction Trades Council on July 16, state Sen. Sue Rezin, a strong nuclear advocate, tweeted: "Time may be running short, but we still have the ability to pass legislation that will keep our nuclear plants open."
In case you missed it: On August 27 of last year, Exelon announced its intention to prematurely retire Byron and Dresden, citing long­standing economic pressures. Without some form of compensation from the state for the plants' environmental and reliability attributes, the company declared, Byron would shut down in September 2021, followed by Dresden in November. The company additionally warned that Braidwood and LaSalle were in jeopardy of early closure as well.