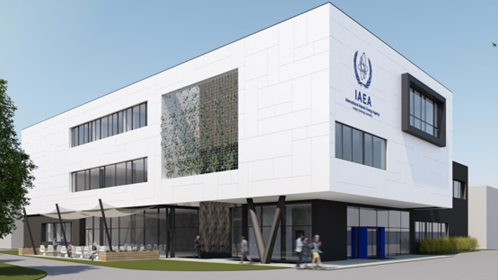 The International Atomic Energy Agency has broken ground for a new building designed to help countries combat nuclear terrorism in areas such as illegal material trafficking and physical protection of facilities.
The IAEA Nuclear Security Training and Demonstration Centre, as the building is to be called, will become part of the agency's Seibersdorf, Austria, complex, which currently houses eight nuclear applications laboratories for food and agriculture, human health, and environmental monitoring and assessment, as well as two safeguards analytical laboratories for nuclear verification.
The center is scheduled to become operational in 2023. The start of construction was marked by a groundbreaking ceremony on July 12, attended by Rafael Mariano Grossi, the IAEA's director general, along with IAEA member-state representatives.
"This center will help us in supporting countries to remain ahead of the curve in guarding against nuclear terrorism," Grossi said. "It will reinforce the central role the agency plays in this area of international importance."
Why now? According to the IAEA, while it has offered training in nuclear security since the early 1970s, requests have increased in recent years, due in large part to the 2016 entry into force of the Amendment of the Convention on the Physical Protection of Nuclear Material. In addition, the need to support member states in the protection of nuclear material has grown as more countries embark on nuclear power programs or start construction of research reactors.
Specifics: The center will provide more than 2,000 square meters of specialized technical infrastructure and equipment, said the agency, with hands-on training conducted on demonstration systems and using virtual reality environments. Among other activities, participants will practice procedures on access and alarm controls, inspect physical protection systems, and learn how to sweep an area for radioactive material during major public events. Other exercises at the center will strengthen capabilities in radiological crime scene management and nuclear forensics, the IAEA said.