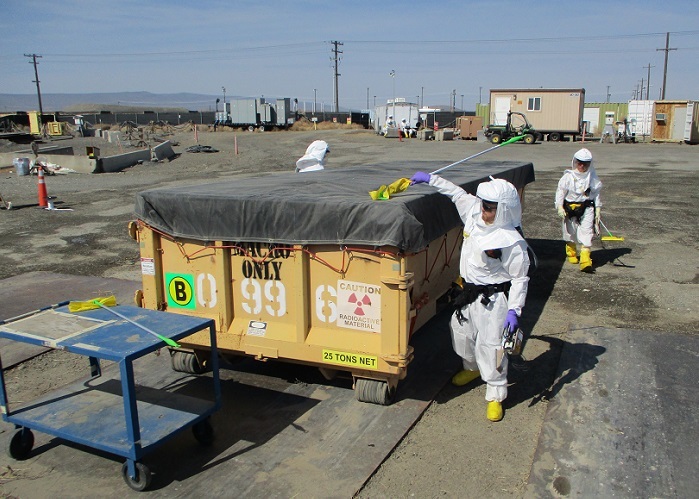 Final cleanup activities at the Hanford Site's demolished Plutonium Finishing Plant have resumed following a pause in work prompted by the COVID-19 pandemic, the Department of Energy announced. Crews with the DOE's Richland Operations Office and site contractor Central Plateau Cleanup Company will remove, package, and dispose of rubble remaining from the demolition of the plant's plutonium reclamation facility, which was torn down in 2017.
Rubble removal and packaging was about 25 percent complete when the work was halted and the site was placed in a safe configuration in March 2020, when Hanford entered an essential mission-critical operations posture in response to the pandemic.
In operation from 1949 to 1989, the Plutonium Finishing Plant was the last step in plutonium production at the Hanford Site, near Richland, Wash. Open-air demolition of the PFP began in 2016, and the plant's last remaining structure, the main processing facility, was torn down in February 2020.
The packaged rubble will be transferred to the Environmental Restoration Disposal Facility, Hanford's on-site engineered landfill, for permanent disposal, the DOE said in a June 1 announcement. The site grounds will then be stabilized with a protective cover that will limit the effects of water, wind, and heat.
They said it: "This critical risk-reduction work builds on the incredible accomplishment of completing demolition of the PFP main processing facility in early 2020," said Tom Teynor, project director for PFP demolition in the Richland Operations Office. "The progress toward safe completion of final activities at PFP continues to be a collaborative effort between the department, our contractor, labor organizations, and regulators."
Bob Nichols, director for Central Plateau Cleanup Company's inner area end states group, said, "PFP demolition forever changed the skyline at Hanford."