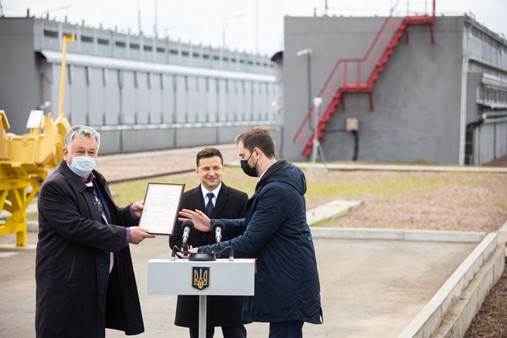 Ukraine's State Nuclear Regulatory Inspectorate (SNRIU) has authorized the operation of Chernobyl's Interim Storage Facility (ISF-2), allowing spent nuclear fuel from the plant's three undamaged reactors to be loaded into the dry storage facility. The handover of the ISF-2 operating license was carried out during a ceremony held on April 26, the 35th anniversary of the Chernobyl accident, and was attended by Ukraine's president, Volodymyr Zelensky.
Holtec International, which took over the construction of the storage facility in 2011, said that the Chernobyl ISF-2 is the world's largest and most complex dry storage project, with numerous unique challenges that had to be overcome. The issuance of the operating license and the safe loading of used fuel assemblies from Chernobyl's aging storage facility mark the culmination of over two decades of effort to bring the facility to full operation, the company said.
To allow for the decommissioning of Chernobyl, ISF-2 will provide for the processing and storage of spent fuel from Units 1, 2, and 3. A total of 232 double-walled canisters will be safely stored and monitored for a minimum of 100 years in individual concrete modules at the site, according to the European Bank for Reconstruction and Development, which helped finance the project.
ISF-2 demo: Late last year, Holtec loaded two double-walled canisters of Chernobyl's RBMK spent fuel into ISF-2 as part of a demonstration of the system's efficacy. Holtec said that the demonstration was the last step in a string of required commissioning operations prior to the issuance of the license.
According to Holtec, the use of double-walled canisters renders any risk of leakage orders of magnitude more non-credible than required by regulations in the United States and most regulatory regimes. Other system innovations include the deployment of a forced gas dehydrator to extract the last trace of entrained moisture from the fuel for guaranteed storage safety and the use of extruded Metamic tubes to efficiently dissipate the residual heat from the spent fuel.
They said it: "This is a significant step for security in the Chernobyl zone, security in Ukraine, security in Europe, and around the world—the step we are taking today with boundless gratitude and respect to all liquidators of the Chernobyl accident, as well as with boundless faith and readiness to work for the safe, ecological future of our children, our next generations," said President Zelensky.
SNRIU Chairman Grigoriy Plachkov said, "Issuance of the full operating license to commence loading of the Chernobyl reactors' used fuel into interim spent fuel storage demonstrates an important and long-awaited milestone. Now, the licensee can begin full operations to transfer Chernobyl's spent nuclear fuel to long-term safe dry storage at ISF-2 over the next 10 years."