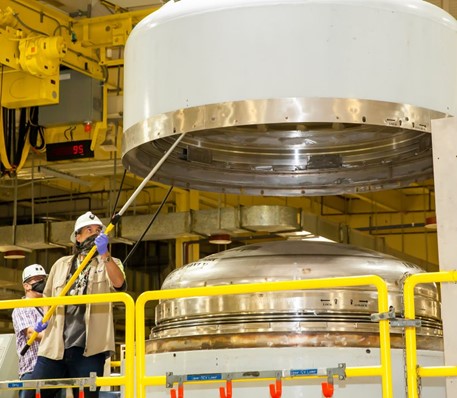 According to EM, the 2021 Strategic Vision was developed with feedback from regulators, tribal nations, local communities, and other partners. The report outlines goals for the coming decade, focused on safety, environmental cleanup priorities, innovation, and improved performance.
"EM has its sights set on the future," said William "Ike" White, the DOE's acting assistant secretary for environmental management. "We have many goals at our sites, including transformational progress in addressing tank waste challenges, demolishing contaminated buildings, remediating contaminated soil and groundwater, safely managing and disposing of waste, and completing work at projects and sites."
The priorities: EM's goals for its cleanup sites over the next decade include:
Completing legacy cleanup activities at the Nevada National Security Site; the Uranium Mill Tailings Remedial Action project in Moab, Utah; and Sandia National Laboratories in New Mexico.
Initiating radioactive tank waste treatment at the Hanford Site in the state of Washington, as well as completing significant risk-reduction activities, such as placing the last of the former production reactors into interim safe storage.
Emptying and closing 22 of 51 underground waste tanks at the Savannah River Site in South Carolina and completing disposal of remaining legacy transuranic waste.
Completing the treatment of remaining liquid sodium–bearing waste at the Idaho cleanup site (Idaho National Laboratory), along with completing targeted buried waste exhumation and shipments of remaining legacy transuranic waste to the Waste Isolation Pilot Plant (WIPP) in New Mexico for disposal.
Completing disposal of remaining legacy transuranic waste and uranium-233 at the Oak Ridge site in Tennessee, along with completing construction of the site's new Mercury Treatment Facility.
Completing demolition of the former Main Plant Process Building at the West Valley Demonstration Project in New York.
Demolishing two of three former uranium enrichment process buildings at the former Portsmouth Gaseous Diffusion Plant in southern Ohio.
Completing deactivation activities at the C-333 former uranium enrichment process building and demolishing the former C-400 Cleaning Building at the former Paducah Gaseous Diffusion Plant in Kentucky.
ECA response: The Energy Communities Alliance, a membership organization of local governments adjacent to or impacted by DOE sites, noted that unlike last year's document, the 2021 Strategic Vision was written with input from local communities and stakeholders.
In a news release, ECA said that it "appreciates the opportunity to comment and work with EM on further development of the Strategic Vision as it is a 'living' document," adding that its members "look forward to a direct dialogue with EM leadership and EM site officials on their site's plan."
The ECA also said it appreciates EM's projected framework for its cleanup mission and the progress made despite the delays the COVID-19 pandemic caused at a number of DOE sites.
Summary report: Intended to provide a clear and concise high-level summary of the progress EM anticipates over the coming decade, the 2021 Strategic Vision is not a comprehensive document of all planned cleanup projects at EM sites. Instead, it is one of a set of integrated planning activities and tools EM uses that also includes more detailed, site-specific planning documents and periodic strategic alternatives analyses. The vision is based on current budget assumptions, as well as previous years' congressional appropriations.