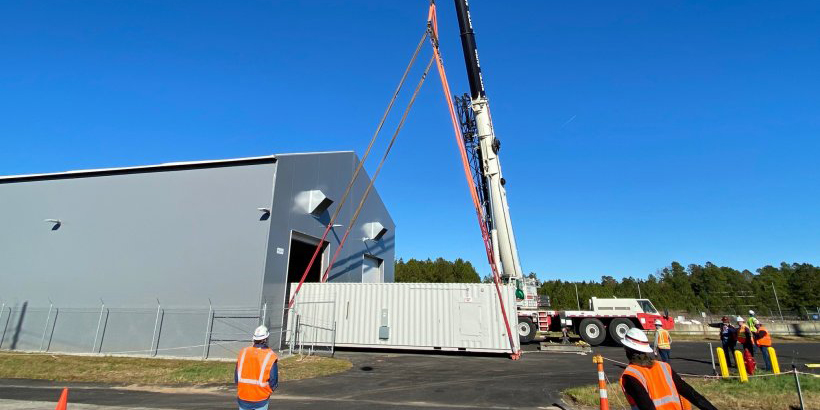 Workers at the Department of Energy's Savannah River Site in South Carolina recently finished transferring equipment to the site's K Area in preparation of shipping downblended plutonium to the Waste Isolation Pilot Plant in New Mexico for disposal. The plutonium is part of the 34 metric tons of surplus plutonium the National Nuclear Security Administration plans to ship to WIPP under the "dilute and dispose" option the department adopted following the cancellation of the MOX Fuel Fabrication Facility project.
As announced by the DOE on April 6, the equipment transferred from SRS's Solid Waste Management Facility (SWMF) to the K Area Criticality Control Overpack Characterization and Storage Pad included an X-ray system used to inspect radioactive waste drums without opening them. Waste characterization and shipping activities are being consolidated at the K Area storage facility, which will add capacity to store more than 3,800 drums awaiting shipment to WIPP.
Construction of the additional storage is scheduled for completion later this year. After the storage facility is complete, the DOE and the Environmental Protection Agency will conduct regulatory reviews prior to WIPP authorizing the first shipment, which is planned for 2022.
Increased efficiency: DOE Nuclear Materials senior technical advisor Maxcine Maxted said that moving the equipment to K Area will eliminate the step of sending the drums to SWMF for characterization and shipment to WIPP. "Now we can perform both of those tasks right from K Area, making the process more efficient," Maxted said.
Workers also have completed extensive facility modifications and equipment upgrades at K Area to dilute the plutonium more efficiently, the DOE said. To reduce the threat of proliferation, the surplus weapons-grade plutonium is being converted to an oxide, blended with an adulterant, and disposed of as transuranic waste.
WIPP acceptance: Before being shipped to WIPP, the containers of downblended plutonium will need to be certified that they meet the repository's waste acceptance criteria.
DOE Savannah River Waste Disposition Programs division director Sonitza Blanco said, "WIPP has specific standards for the type of materials allowed in their underground repository. The examination is performed under the certified Central Characterization Program, which is managed by the personnel from the managing and operating contractor of WIPP, Nuclear Waste Partnership. It verifies and validates that the waste within each container matches the documentation provided by SRS and that it does not contain any WIPP-prohibited items."