Such was the provocative title of the Focus on Communications Workshop held at the 2014 American Nuclear Society Annual Meeting on the afternoon of Wednesday, June 19.
Nuclear energy is not in a great place right now in the United States (although globally it is a different story). A few nuclear plants have closed recently in the United States, while a few are under construction-but there are no "new orders" coming in. A short list of other nuclear plants are at risk. Some anticipate great things from small modular reactors someday-some remain skeptical. Public support wavers around 50/50 nationally in Gallup polls. What to do? My report from the workshop follows.
Communications
After a rather interesting and timely short interchange on how cyclotron gamma irradiation could solve certain problems of secondary fermentation in wine... the workshop got down to business. An important discussion on effective communication methods and strategies for nuclear energy was led by Mimi Limbach of Potomac Communications Group, using detailed polling data. The meeting then turned to the politics and economics of nuclear energy, led by ANS Washington representative Craig Piercy.
Trends
In the United States, natural gas prices are low due to the "fracking boom," and will remain low in the near future, making gas an attractive option for new power plants. Meanwhile, while our economy is growing very slowly, so is electricity demand. In past decades electricity demand in the United States grew multiple percent each year, occasionally even in double digits-now, it's about 1 percent growth per year. Electricity capacity certainly needs to be replaced in coming years, but not so much added. This is in marked contrast to developing countries around the globe, where nearly all new electrical generation that is added to global supply, will be added. And it will be a lot.
The biggest opportunities for U.S. nuclear will be overseas, as all trends indicate. But at the same time, Piercy pointed out that the U.S. nuclear industry has to be strong domestically to be strong internationally.
EPA carbon rule
The U.S. Environmental Protection Agency about a month ago released a proposed rule for state-by-state requirements on lowering carbon output from power plants, and there are big differences in the levels of required carbon cuts among individual states. The one major outlier is Vermont, where the EPA proposes no carbon reduction from current levels at all. No doubt this is due to the scheduled closing of the Vermont Yankee nuclear plant. The EPA must recognize that making up for all of Vermont Yankee's essentially carbon-free electricity, with other sources of essentially carbon-free electricity, will be a tough and expensive job all by itself. What a waste, some might say.
The workshop discussion brought forward a rather remarkable point: To comply with the EPA, many U.S. states do have the option to build one big nuclear plant, retire a couple of coal plants, and "call it a day and job well done." Will they? Regardless, more of the focus for ANS will now apparently shift to the states, and especially on convincing the states to include nuclear in their energy portfolios.
In effect this will be changing Renewable Energy Portfolios, which 29 states have, into Clean Energy Portfolios. A change of one word will mean a lot for U.S. nuclear energy. That is, it would be a change in state policies so that nuclear gets some credit for being low carbon.
An interesting discussion on industrial electricity prices in Germany ensued. Piercy noted that electricity prices have roughly doubled in Germany since 2008, when the country began its great experiment in nuclear energy phaseout, and then a more rapid phaseout after Fukushima. Will the United States travel down this de-industrializing road? Germany's experience may serve as a very informative example-and warning.
A realistic US nuclear policy agenda
Workshop discussion concluded with what a realistic U.S. nuclear policy agenda would look like.
First, some movement on nuclear waste policy is needed, now. The current Energy Bill in Congress may actually include some funding for a pilot interim storage facility-and that would be movement.
Second, a "good for nuclear" EPA carbon rule is needed, now. Public comments are open on the EPA rule, and ANS as a national organization will definitely be weighing in on this.
Third, low dose radiation health effects-or more accurately, the lack thereof-is an overriding issue. From discussion: Is it really the case that one can add up all radiation exposure throughout a lifetime and extrapolate some health effect from that number? It's certainly one way to regulate radiation exposure, but is the situation with radiation dose more akin to a more familiar example: Occasionally drinking a glass of wine may even be good for you-but drink bottles every day and you'll see plenty of adverse health effects? There seems to be some shifting among the scientific community regarding biological effects of low dose radation, and research continues. Note: My impression is that until such a shift in scientific consensus is reflected in the National Academy of Sciences' Biological Effects of Ionizing Radiation reports, this debate will continue without major change in policy, and without change in very expensive regulatory requirements. At any rate, all attending the workshop agreed that fear of radiation is demonstrably completely out of proportion to actual risk, or fear of risks from, say, chemical toxins that are all around us in everyday life, and this fear is costing the world dearly. Nonetheless, without a change in the "public level of dread" of radiation, one wonders how well nuclear energy will succeed long term. (That is, until one needs a CT scan.)
A shift toward seeing nuclear energy technology trade with other countries as a requirement of effective nonproliferation policy, rather than its antithesis, is another change that needs to happen soon, and some shifting in attitudes is going on here in Congress, Piercy reported. Countries that want to use nuclear energy (and this number will continue to grow) have a wide range of potential suppliers around the globe-and not just the United States. Flexibility in agreements with other countries concerning their rights to uranium enrichment and reprocessing, even though they really have no intention of actually acting on them, is increasingly seen as a necessity if the United States is to remain relevant in nuclear. Otherwise, customers can just go somewhere else for nuclear energy technology, where such restrictions are not imposed. So, as goes U.S. engagement in nuclear trade, and for that matter strength in the U.S. domestic nuclear energy industry, so goes U.S. influence in global safety and nonproliferation.
Continued education, and research and development (and a Nuclear Regulatory Commission licensing structure) on advanced reactors and fuels, remains a continuing priority today, along with the extension of the current nuclear fleet, of course-and perhaps finding new ways to facilitate private company investments in new nuclear technologies. The rest of the world is moving fast on this-on fast reactors, anyway. While we are not yet at the point that a 3-D printer in the garage can build a lot of nuclear components, it is getting easier and cheaper for nuclear startups than in years past and there is great potential for innovation.
Conclusion
They say all politics is local. Perhaps the main thing I take away from the workshop discussion is that now more than ever, nuclear energy politics and policy, with impetus from the new EPA carbon rule, will be forged at the grassroots level of the states as well. Stay tuned.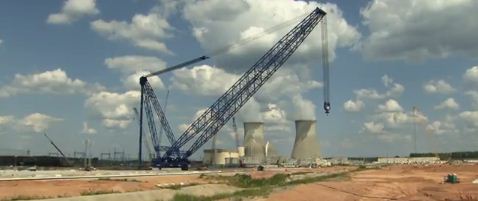 _______________
Paul Bowersox is on ANS staff in the Communications and Outreach Department and he manages ANS social media.