Welcome to the ANS Store!

The ANS Store is your one-stop shop for purchasing all the authoritative nuclear-related content.
Browse our most popular items, or use the search bar or categories on the left to help with your search. Once you're done, view your shopping cart on the right to check out.
The ANS Store also contains thousands of electronic documents that can be purchased and downloaded immediately. This content, which includes journal articles and standards, has freely-accessible abstracts that can be searched and read. In addition, much of the content is publicly accessible, meaning you have decades of research at your fingertip.
ANS logo merchandise is available off-site.

First Look
Keep your edge with First Look, which gives regularly updated access to the latest research months before publication in ANS's three renowned journals. These pre-publication articles are peer reviewed, copyedited, and proofread and may be cited using DOI.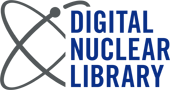 Digital Nuclear Library
This central repository contains all the digital content of the ANS Journals and other materials from Scientific Publications. The Digital Nuclear Library allows easy navigation of First Look pre-published articles, current issues and articles, and 35,000 archived articles from 1956 to today.