Welcome to the ANS Store!
The ANS Store is your one-stop shop for purchasing all the authoritative nuclear-related content.
Browse our most popular items, or use the search bar on the right or categories on the left to help with your search. Once you're done, view your shopping cart on the right to check out.
Holiday Sale:

Save up to 35% on publications through January 8!

Save 25% on all books, standards, maps, and proceedings during the ANS Store Holiday Sale. ANS members save an additional 10% (35% total savings)!

Enter the following discount code to receive your savings:
holiday2017
Offer ends January 8, 2018. Bookstores are not eligible to use the discount.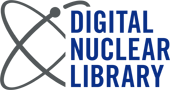 Digital Nuclear Library
This central repository contains all the digital content of the ANS Journals and other materials from Scientific Publications. The Digital Nuclear Library allows easy navigation of pre-published articles, current issues and articles, and 35,000 archived articles from 1956 to today.