Sturdy, wider base with deluxe finish. Made with durable, high-quality materials. Free Carrying Case Included!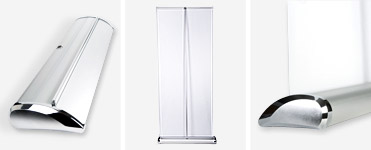 Members of ANS can purchase retractable banners for use in exhibits, trade show, or outreach events. The banners come ready to use - No Assembly Required. First you choose your design, then you choose your stand. They may also be customized with your local/student section logo, or you may keep the ANS national logo.
Size: 33" x 78" banner
Please allow 3-4 weeks for delivery.
Each banner is custom made, so please call the ANS Outreach Department at 708-579-8209 before ordering.
This banner, based on the design of the career brochure and poster, makes an excellent backdrop if you are discussing careers in nuclear science and technology. The QR code at the bottom of the banner takes visitor directly to the Careers landing page on
www.NuclearConnect.org