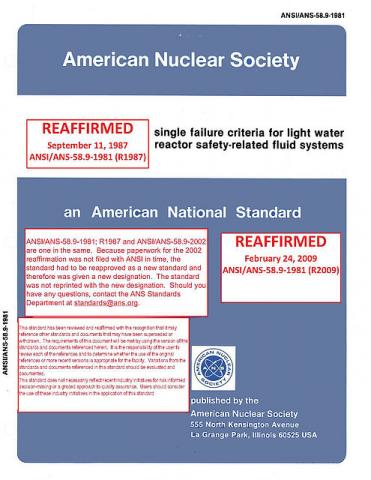 ANSI/ANS-58.9-2002;R2015 (R=Reaffirmed): Single Failure Criteria for LWR Safety-Related Fluid Systems
Current Standard, ANSI/ANS-58.9-1981;R1987 and ANSI/ANS-58.9-2002 are one in the same; because paperwork for the 2002 reaffirmation was not filed with ANSI in time, the 1981 standard was reapproved as a new standard and was assigned a new designation.
"R" in the numeric designation signifies that the 2002 standard was reaffirmed (recertified) as an American National Standard in 2015. No changes can be made to a standard during reaffirmation.

This standard provides criteria for the designer which interpret the requirements of Title 10, Code of Federal Regulations, Part 50, "Licensing of Production and Utilization Facilities," Appendix A, "General Design Criteria for Nuclear Power Plants," with respect to design against single failures in safety-related Light Water Reactor (LWR) fluid systems. Means of treating both active and passive failures are addressed for safety-related fluid systems following various initiating events. Current acceptable practice is used as a basis for these criteria.