With nearly 11,000 readers throughout 54 countries, Nuclear News is recognized worldwide as the flagship trade publication for the nuclear field. News reports cover plant operations, maintenance and security; policy and legislation; international developments; waste management and fuel; and business and contract award news. The magazine has been published by the American Nuclear Society since 1959.
View the Table of Contents for issues below, or log in to read feature articles.
Not a subscriber? A subscription to Nuclear News is included with ANS membership. Corporate subscriptions are also available.
Please note that issues prior to January 2008 are temporarily available in an
archive
.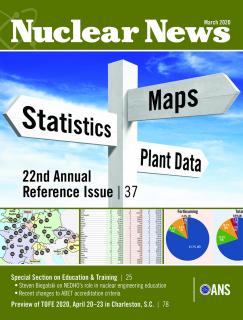 March 2020
Volume 63, Number 3
Featured Articles