Nuclear Science Badge Workshop
Introductions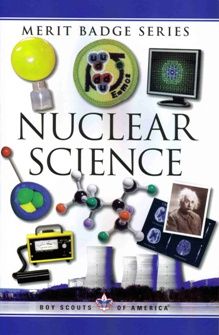 The Boy Scouts of America (BSA) sponsor a series of merit badge opportunities for their members. This guide demonstrates one way to host a Nuclear Science merit badge workshop.
Some of the direct benefits of hosting a workshop are that it introduces nuclear science to Scouts and attending adults, it encourages Scouts to pursue nuclear science in their college and career, and last, it is a nuclear related volunteer opportunity for members of your section. One of the indirect benefits that are gained from hosting a nuclear science merit badge workshop are that it improves local public perception of the nuclear power industry through better public understanding of radiation and nuclear technology. The Nuclear Science Merit Badge was updated in 2005 (previously the Atomic Energy Merit Badge), and the requirements updated again in 2011. The requirements for the Nuclear Science Merit Badge are designed to allow the Scout to complete the merit badge on his own, purely with the merit badge book, but attending workshops like this one can enable the Scout to meet nuclear experts and experience things first hand (like seeing a real nuclear reactor!).
2010 – 5,908
2011 – 6,965
2012 – 7,114
Preparations for the Workshop
As a rule of thumb, it is good to perform counselor registrations, prepare curriculum material, and reserve meeting locations before you attempt to contact troops to attend your workshop. This will insure that your workshop is of good quality and follows all rules and requirements.
Registering as a Merit Badge Counselor
At least one volunteer from your section must be registered with the BSA as a merit badge counselor. This volunteer will be responsible for signing off on the Scout's "blue cards", thus certifying they have completed all requirements for the merit badge. Registering as a merit badge counselor is conducted through your local BSA council and requires that you are a Registered Adult Leader (lasts 1 year), registered merit badge counselor (lasts 1 year), and have recently completed Youth Protection Training (YPT; lasts 2 years). For more information and to obtain the proper forms for becoming a merit badge counselor, please find and contact your local BSA council using the Council Locator Tool.
Preparing a Curriculum
Before preparing a curriculum, you should review the merit badge requirements; it is through the completion of these that the Scout earns his merit badge. The Nuclear Science Merit Badge has some fixed requirements and others that can be tailored to meet the needs of the counselor or Scout. For example, Requirement 5 requires that the Scout learn about radiation safety either by doing distance and shielding experiments with a small radiation source, by learning about radon collection and detection in homes, or by visiting a place where X-rays are used. Requirements like this allow your program to be flexible to the facilities available to your section. The full requirements can be found above, in the merit badge book, or by conducting an online search.
After looking through the requirements, choose which options best complement the facilities available to your section as they may affect how your program is structured. Some examples of facilities may be a research or power reactor (fulfills Req. 3a; Req. 4d), a linear accelerator (fulfills Req. 3a), an X-ray room (fulfills Req. 5c), or a detection lab (fulfills Req. 3a; Req. 4d). If the facility requires travel time, this must be factored in to your schedule and planning as well. If your workshop requires travel by vehicle, the best option is often to require the troop to provide their own transportation, ensuring liability remain in the hands of the parents or Scout leaders and not your own.
The next step is to design a structure and schedule for your workshop. The number of available volunteers within your section will guide whether you can handle a small workshop or a large one. For small workshops (<30 scouts), a linear structure may work best. This will allow for you, the Merit Badge Counselor, to present the required information to all the Scouts at once. Demonstrations, activities, and facility tours are done as a single group and a minimal amount of volunteers are required. It is encouraged to include as many interactive activities as possible, to ensure the Scout is attentive and learning. If a projector is not available to your ANS Section for slide presentation, then tri-fold poster boards will work. The drawback to tri-fold poster boards is in the difficulty encountered when scaling to a large workshop. For large workshops, a rotational structure conducted with smaller subgroups may work best. This will enable more attention to be given to individual Scouts, allowing more questions to be answered and more interaction during demonstration. For both large and small workshops, it is recommended that Scouts fill out a worksheet to encourage note-taking and attentiveness. Additionally, a quiz should be administered at the end of each section help the Scout mentally review the worksheet and provide you feedback on the quality of your instruction. Allow the Scouts to use their worksheets during the quiz and stand by to help them in case they have any questions or need help. The quiz should not be used as a deciding factor as to whether or not the Scout completes the requirements. Rather, successful completion of the worksheet should serve as a better gauge to the Scout's attentiveness during the workshop and achievement of each requirement.
Lastly, to insure every Scout is on the same level when arriving for the workshop, it is recommended that a prerequisite worksheet and presentation are made that can be completed beforehand and which covers the basics of nuclear science (What is an atom?; what is an electron?, etc.). Samples are provided below in the "Nuclear Science Basics" presentation and the "Nuclear Science Basics Worksheet". This will enable your workshop to be shorter and provide a new experience for all Scouts, regardless of past instruction level.
Sample Itineraries:

Small Group (<30)


Large Group


Multiple Groups
Sample Presentations:

Nuclear Science Basics


Nuclear Power Technology


Radiation Health and Safety

Requirement Key
Sample Activities:

Radiation Dose Chart


Nuclear Science Basics Presentation


Answer Key



Nuclear Power Technology Quiz


Answer Key



Nuclear Power Technology Worksheet


Answer Key



Radiation Health and Safety Quiz


Answer Key



Radiation Health and Safety Worksheet


Answer Key


Sample Demonstrations:
Scheduling and Reserving Rooms
When scheduling a Nuclear Science Merit Badge Workshop, be careful to pay attention to the calendar events already listed on your local BSA council or district calendar. Communicate with your local district and council to find dates which do not conflict with camporees, troop meetings, or even other merit badge workshops. Additionally, when reserving rooms and facilities, try to set reservations at least a month in advance of the scheduled program and have a backup plan in case the reservations fall through.
Contacting Troops and Registering Attendees
The BSA is a very structured organization. At the local level, troops serve as the primary group in which Scouts pursue activities. At the regional level, troops are arranged into districts, and districts are arranged into councils. An effective way to advertise your workshop is to contact one or more nearby councils and ask them to distribute your information to the troops within the council. Usually, councils and districts have newsletters and event calendars on which your workshop information can be placed.
Additionally, you can attend the district roundtable (a monthly meeting of troop leaders) where you can announce your workshop in person and answer any questions that troop leaders may have. If you decide to advertise at the district roundtable, it is good to contact the District Chair beforehand to get on the agenda and let them know you are coming. Normally, the districts have a website where you can find contact information; otherwise, you should be able to get such information from your council.
You can then set up a web registration system or simply have individuals call or email you with the registration information. Collect names of Scouts, troop numbers, and the name and emails of adults who are attending with their Scout. A fee of $5-10 per Scout to cover the expenses of the event is common for these workshops. If you decide to provide lunch for the Scouts, be sure to mention what is being provided during registration to insure you are sensitive to any uncommon diets that attendees may have. If you don.t provide lunch in your workshop, it is perfectly acceptable to ask attendees to bring a sack lunch, just be sure to mention this during registration. Lastly, when setting the fee, be sure to include the impact parents or scout leaders will have on the cost of food provided. Many parents will not plan to attend, but some will want to be there. This is beneficial in two ways: you can rely on them to help keep the scouts under control and you can enlist them to help verify that the scouts are fulfilling their requirements.
Requirements are recorded and tracked by the BSA on .blue cards. which should be brought to your workshop by the Scout. Each requirement completed should be initialed by the registered counselor. It is always good to remind Scouts to bring a blue card for the day of the workshop and to have a few extra in case the Scout does forget. They can be obtained from your local BSA council or you can print them on blue paper using

this form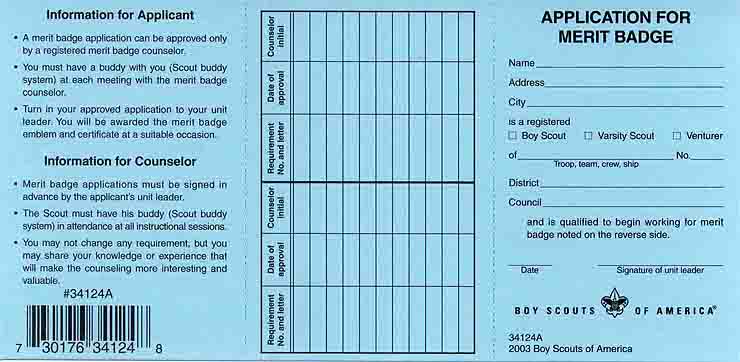 Eve of the Workshop
On the eve of the workshop, it is important to check over everything needed on the day of the workshop. If there are any worksheets or surveys needed, they should be printed out and organized. If there are any materials needed for activities, they need to be bought and ready to go. It is good to have information packets ready for adult leaders and parents, which contain a schedule, a map, emergency contact phone numbers, and a Scout.s worksheet which will allow them to follow along with the Scouts. Don.t forget to print out extras just in case a worksheet is lost or there are surprise attendees who arrive but didn.t to register for the workshop. A sign-in/sign out sheet should also be made to track attendees of your workshop. Lastly, if there is any food that is being ordered, it should be ordered and funds should be secured to purchase the food.
Day of the Workshop
Volunteers should arrive at least 30 minutes before registration to setup the workshop. A registration table should be placed near the entrance where a sign-in/sign-out sheet can be placed along with adult information packets and Scout worksheets. For large workshops, try to man the desk at all times and bring a laptop computer and printer to allow flexibility for printing out extra materials if needed. If there are extra funds available, it is nice to provide donuts for volunteers and coffee for adults attending with their Scouts.
Registration
Set a registration time 30 minutes before your workshop begins. This will give you time to collect registration fees, ensure everyone is there, and hopefully allow everyone to arrive and find a seat before the workshop begins. At this time, you can also hand out information packets and worksheets. Be prepared to handle a few extra attendees who either forgot to register or had extra Scouts
Opening Session
In the opening session, introduce yourself and your volunteers. Assign each group a chaperone who can lead the group through the day's events. Have each chaperone step up and discuss with their group the schedule, as each group will have a unique schedule.
Finishing the Workshop
It is probably most convenient for your workers to bring a lunch, or you could choose to provide lunch for them. This also gives them time to look over the scouts' homework during the lunch break. At the end of the day you may or may not want to have a wrap-up session. In either case, the event leader must sign all of the "blue cards" for the scouts that have completed each of the sessions. Be sure that at least one of your workers has been officially sanctioned by the Boy Scouts of America as a scout leader.

Survey – Scouts


Survey – Leaders


Outreach Report Form
For assistance in developing a workshop in your area, contact the ANS Student Sections Committee, Scouting Subcommittee at sscscouting@gmail.com.
Last updated September 9, 2014, 3:32pm CDT