Jim Rogers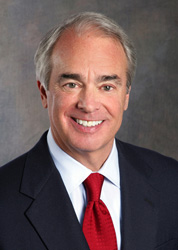 Jim Rogers is chairman of the board for Duke Energy. Prior to being elected chairman in January 2007, he also served as Duke Energy's president and CEO from April 2006 until his retirement on July 1, 2013.
Rogers served as a CEO in the utility industry for 25 years. Over that period, he delivered an average total shareholder return of more than 12 percent per year by focusing on sustainable growth and executing a series of well-timed mergers, acquisitions and divestitures. In 2013, Rogers was awarded the Edison Electric Institute's Distinguished Leadership Award by his industry peers in recognition of his 25 years of service and exemplary contributions to the electric utility industry. In addition, the Alliance to Save Energy honored Rogers with its Lifetime Achievement Award.
Rogers became president and CEO of Duke Energy following the merger between Duke Energy and Cinergy in 2006. Before the merger, he served as Cinergy's chairman and CEO for more than 11 years. Prior to the formation of Cinergy, he joined PSI Energy in 1988 as the company's chairman, president and CEO.
He has served as deputy general counsel for litigation and enforcement for the Federal Energy Regulatory Commission (FERC); executive vice president of interstate pipelines for the Enron Gas Pipeline Group; and as a partner in the Washington, D.C., law office of Akin Gump Strauss Hauer & Feld. Prior to those appointments, Rogers served as assistant to the chief trial counsel at FERC; as a law clerk for the Supreme Court of Kentucky; and as assistant attorney general for the Commonwealth of Kentucky, where he advocated for the state's consumers in gas, electric and telephone rate cases.
Rogers was also a reporter for the Lexington (Kentucky) Herald-Leader for three years.
In the course of his career, Rogers has served on the boards of directors of eight Fortune 500 companies, and is currently a director of Cigna Corp. and Applied Materials Inc. In 2010 and 2011, he was named by the National Association of Corporate Directors' Directorship magazine to its annual Directorship 100, recognizing the most influential people in corporate governance. Also during his career, he has owned and/or operated assets in 17 countries in Africa, South Asia, Europe, and Central and Latin America.